FEATURES
The Amscot MoneyCard gives you a safe, secure way to carry your money. Every card is FDIC insured and backed by the prestige and power of MasterCard, along with the convenience you've come to expect from Amscot.
Accepted worldwide, anywhere Debit MasterCard is accepted
Shop online, pay bills and make every day purchases
Simple Fee Plan with unlimited transactions
Free* direct deposit- Get your direct deposit fast with early direct deposit
No minimum balance or risk of overdraft fees
No ATM surcharge when you use an Amscot ATM
Free* online bill pay with our Free** mobile apps
Free* 24-hour automated support
HOW DOES IT WORK?
The Amscot MoneyCard is simple and easy to use. The front of the card displays your name, the MasterCard Brand Mark, an individual card account number, and an expiration date. The Amscot MoneyCard stores value of the dollar amount you choose to load and maintain on the card. As you use the card at merchants or ATM's, the amount of the purchase or cash withdrawal is automatically deducted from the card's available balance. Reloading the Amscot MoneyCard is easy!
CONVENIENT LOADING OPTIONS:
Load your card for free* through Direct Deposit- get your payroll or government benefits fast with Early Direct Deposit!
Load at any Amscot Branch up to $7,500!
OTHER ADVANTAGES:
Same Day Replacement Card
If your card is lost or stolen just visit any Amscot Branch and get a same day replacement card.
24-Hour Support!
The Amscot MoneyCard provides free* 24-hour automated support. Check your balance, review your recent transactions, or report any problems such as a lost or stolen card by calling 1-866-532-9623.
Manage Your Budget and Track Your Spending
We make managing your card account easy! With the Amscot MoneyCard you can track your spending and manage your budget from anywhere. View your balance and transactions for free** with our mobile apps, text message alerts, and at www.AmscotCard.com.
HOW DO I GET IT?
The Amscot MoneyCard is available exclusively at any Amscot Branch. You will receive a temporary card that will allow immediate access to your cash at ATM's, and for purchase transactions at your favorite merchants. A personalized Amscot MoneyCard, from one of our six designs, will be delivered to you generally within 7 to 10 business days.
WHAT ARE THE COSTS?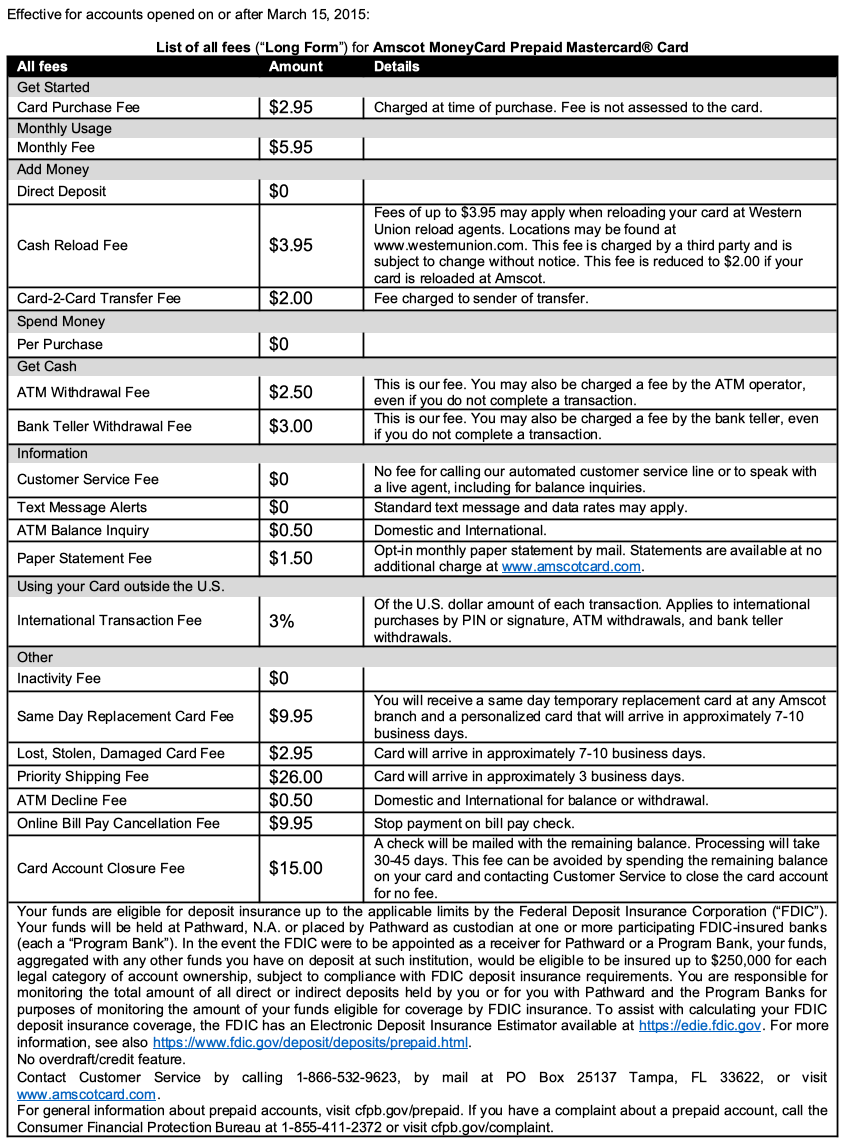 These fees apply to new Amscot MoneyCards purchased on or after March 15, 2015. The fees associated with cards purchased before this date may be different. Please login to your card account to view your cardholder agreement and fees.
For more information about the Amscot MoneyCard and to get started ask an Amscot Associate for details or call 1-866-532-9623.
*While this feature is available for free, certain other transaction fees and costs, terms and conditions are associated with the use of this Card. See the Cardholder Agreement for more details.
**Standard message and data rates may apply.